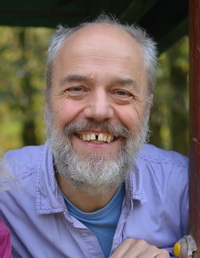 Tři kusy pro přeladěný orchestr (1996)
Three Pieces for Retuned Orchestra
Drei Stücke für verstimmtes Orchester
Instrumentation

: 6(2picc,alt-fl,bass-fl),3(c.i.),4(2Es-cl,bass-cl,cb-cl),2sx(s-sx,b-sx),2(cfg) - 2,4,2Es-tr,4(2euph),1 - 5 perc, arp, prep pf - 1,1,2,4,2

Movements

: 3

Duration

: 20'

Commissioned by

: Musik-Biennale Berlin 1997

Premiere

: 15.03.1997, Musik-Biennale Berlin; Sinfonieorchester des MDR Leipzig, Johannes Kalitzke - cond.

Publisher

: none (available from composer)

Listen to an mp3 excerpt
Program Note:
(EN)
I am in the second-hand store of "New Music". With love I take in hands shabby novelties of our grandfathers. With a nostalgia I smell at an archaic aroma of tone-clusters, sounds over the range, under the range and behind the bridge, giant and fly intervals, piles of cymbals and gongs and other junk (1st Movement).
How funny are those effects of yesterday's Theatre of Dread! Like the rash movement of Laurel-and-Hardy's movies (2nd Movement).
Where are those old days? Water floated them along, wind blew them far away (3rd Movement).
Martin Smolka