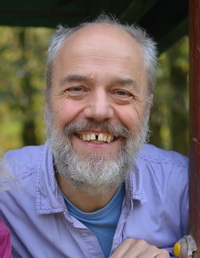 Solitudo (2003)
Instrumentation

: fl(picc), ob, cl, fg, cr, tr, tb, perc, arp, chit, prep pf, vc

Movements

: 1

Duration

: 14'

Commissioned by

: French Ministry of Culture for the Ensemble 2e2m

Premiere

: 12.01.2004, Paris; 2e2m, Paul Méfano - cond.

Publisher

: Breitkopf & Härtel (hire material)

Listen to an mp3 excerpt
Program Note:
(EN)
The piece Solitudo belongs to my attempts to revitalize old musical tools such as melody, unison, regular rhythmical pulse, repetition etc. An important aspect of the "newly" used melodies is the use of 1/4-tones and 1/6-tones.
The used melodic lines are almost tonal, including mainly tones of minor triad, or ninth chord, or other similar well memorizable shapes. The melodic thirds and fifths, sometimes other intervals of the chords are often microretuned, comparably to the detunings, which have been usual in jazz, blues and many kinds of folk and ethnic music.
I believe that there is an unusual emotional potency in the described natural use of microtones. I feel a special expression of pain, bitterness, longing, tears etc. in it. Another aspect of the matter is, that our ears, being used to diatonic and chromatic scale, tend to feel a need of tuning the microtonal intervals up or down to "normal" intervals.
This explanation was made at another time than the piece. In fact the musical language of Solitudo was found intuitively, in strong concern with what the title implies.
Martin Smolka
(FR)
Ma pièce Solitudo appartient à mes essais de revitaliser des outils musicaux anciens tels que la mélodie, l'unisson, pulsations rythmiques régulières, répétition, etc... Un aspect important des mélodies «nouvellement» utilisées est l'utilisation de quarts de tons et de sixièmes de tons.
Les lignes mélodiques employées sont presque tonales, incluant principalement des notes provenant de triades mineures, ou neuvième corde ou d'autres formes similaires faciles à retenir. Les tierces et quintes mélodiques, parfois d'autres intervalles des cordes, sont souvent accordés en microintervalles, comme les désaccords qui étaient utilisés dans le jazz, les blues et beaucoup de genres de musique ethnique.
Je crois qu'il y a un potentiel émotionnel peu commun dans l'utilisation normale des microintervalles décrits. Je ressens une expression particulière de douleur, amertume, désir, larmes etc. Par ailleurs, nos oreilles, hatituées aux gammes diatoniques et chromatiques, ont tendance à sentir un besoin d'accorder les microintervalles sur les intervalles normaux situés en dessus ou en dessous. Ceci implique une sorte de tension comparable aux notes principales dans l'harmonie classique.
Cette explication est venue après l'écriture de la pièce. En effet, le langage musical de Solitudo est venu intuitivement, en lien très étroit avec ce que le titre implique.
Martin Smolka
Reviews:
Report on the 2006 ISCM World Music Days by Joshua Chan (Hong Kong)
(...) Featuring microtones has been another issue of contemporary music, but it was not featured much in this festival. Martin Smolka's Solitudo, performed by musikFabrik, is one of the very few. With a distinctive motif, this piece is very successful in drawing the listener's attention to the temperament discrepancy of three different forms of perfect fifth. The use of 1/4-tones and 1/6-tones did not seem to bother the ensemble even though guitar and harp are used as well. There were very effective textural effects; one could appreciate the subtle sounds of microtones clashing between notes in the high registers of flute, oboe and clarinet.
ISCM Festival report by Orlando Garcia
Martin Smolka's fascinating Solitudo for guitar, harp, piano, cello, percussion, and winds followed next. The work began with a fragmented microtonal figure presented by the harp, guitar, and piano, which was repeated and brought back throughout the work. The dramatic use of silences and the varying attractive fragments that made up the work were very engaging.