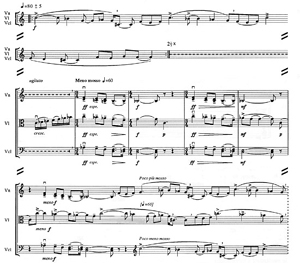 Slzy (1983)
Tears
for string trio
Instrumentation

: vl, va, vc

Movements

: 1

Duration

: 15'

Dedicated to

: Vojtěch Havel

Premiere

: 29.08.1983, Festival Skryje; Zuzana Ondřejčková - vl., Světlana Mirovská - va., Vojtěch Havel - vc.

Publisher

: none (available from composer)

Listen to an mp3 excerpt
Program Note:
(CZ) komentář pro Varšavský podzim 2013
Slzy tečou a tečou a nemohou přestat. Skladba, napsaná před 30 lety, dluží něco minimal music, či spíše tehdejším neúplným zprávám o ní, a hodně polské postmoderní škole. Zajímavé je, že vznikla v dvojnásobné opozici – v pražské Hudební akademii se tehdy pěstoval jakýsi Bartókofjev, trochu lajdácky střežený Ždanovem, a za školu jsem chodil k Marku Kopelentovi okoušet polozakázané ovoce Nové hudby. Slzy jsem psal ještě "za Kopelentem", ale když jsem je po premiéře (konala se na louce u řeky Berounky) "odtajnil", pan Kopelent je s tolerancí a noblesou sobě vlastní pochválil. Přijal repetice, náhodný kánon tří temp i nekonečnou melodii v d moll (resp. v modu 212121). Právě tato skladba zaujala Andrzeje Chlopeckého, když přijel na kursy do Kazimierze. Za půl roku ji dal na program ve Varšavě a tím začala dlouhá série uvádění mých skladeb v Polsku a psaní skladeb speciálně pro Polsko, v čemž vždy měl nějak prsty Andrzej.
Martin Smolka
(PL)
Łzy płyną, płyną i nie mogą przestać. Utwór, napisany przed 30 laty, zawdzięcza trochę minimal music czy raczej ówczesnym niezupełnym wyobrażeniom o niej, a jeszcze więcej polskiej szkole postmodernistycznej. Ciekawostką jest, że Łzy powstały w podwójnej opozycji – wobec pielęgnowanego wówczas na praskiej akademii muzycznej jakiegoś Bartókofiewa, trochę niedbale strzeżonego przez Żdanowa, a zarazem wobec Nowej Muzyki, której zakazane owoce chodziłem kosztować na prywatnych lekcjach u Marka Kopelenta. Kiedy po premierze (która odbyła się na łące nad rzeką Berounką) "odtajniłem" Łzy, Kopelent je z właściwą sobie tolerancją i dystynkcją pochwalił. Przyjął repetycje, aleatoryczny kanon w trzech tempach i nie kończącą się melodię w d-moll (dokładniej w modus 212121). Właśnie Łzy zwróciły uwagę Andrzeja Chłopeckiego na kursach w Kazimierzu, dzięki czemu pół roku później włączył je do programu koncertu w Warszawie (w 1986 r. w Piwnicy na Wójtowskiej). W ten sposób otworzyła się długa seria wykonań mych utworów w Polsce oraz komponowania specjalnie dla Polski, w czym zawsze maczał palce Andrzej.
Martin Smolka
(EN) for Warsaw Autumn
Tears flow and flow and cannot stop flowing. This piece, written 30 years ago, owes something to minimal music, or rather to my incomplete understanding of it at that time. It owes even more to the Polish postmodernist school. Interestingly, Tears were written in opposition to the "Bartókofiev" style then cherished at the Prague Academy, rather negligently presided over by Zhdanov – but also in opposition to New Music, whose forbidden fruit I tasted at private lessons with Marek Kopelent. When I "declassified" my Tears after the premiere in the meadow by the Berounka River, Kopelent praised the piece with his characteristic tolerance and distinction. He accepted the repetitions, the aleatory canon in three tempos and the neverend ing melody in D minor (or, more precisely, in the 212121 mode). It was this piece that attracted the attention of Andrzej Chłopecki at the courses for composers in Kazimierz, and he included it in the programme of a Warsaw concert half a year later (in 1986 in the Wójtowska Basement). This event launched a long series of performances of my works in Poland and of works composed specially for Poland, in which Andrzej was always involved.
Martin Smolka