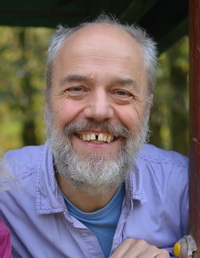 Rinzai a vodoměrky (2009)
Rinzai and Water Skaters
Instrumentation

: retuned guit, bass-cl, string quartet

Movements

: 1

Duration

: 16'

Commissioned by

: Wittener Tage für neue Kammermusik

Premiere

: 25.04.2009 - Wittener Tage für neue Kammermusik; Gareth Davis - bcl, Elena Casoli - guit, Jack Quartet

Publisher

: Breitkopf & Härtel (hire material)

Listen to an mp3 excerpt
Program Note:
(EN)
According to Anthony de Melo, every evening before sleeping the Zen Master Rinzai (9th century) was laughing in loud and filled the whole monastery with cordial joyful laughter. Cascades of his happy laughter used to explode again during mornings and to wake up everyone, even the deepest sleepers. Rinzai never explained a reason of his grandiose laughter.
I imagine Rinzai spending his days at pond, observing water skaters. Sometimes, when he was sure that no one had been around, he used to stride shortly on the surface with them.
Gerridae, known in English as water striders, water bugs, magic bugs, pond skaters, skaters, skimmers, water scooters, water skaters, water skeeters, water skimmers or water skippers, are fascinating by their ability to walk on water surface. Weight of their legs, supposedly, would be counted in micrograms. They stay, so to say, with one leg in material world and the other in spiritual world. Similar mysterious lightness have some of the guitar tones, especially harmonics, as well as that bass clarinet tones, which are able to appear and disappear fluently through the surface of silence.
Martin Smolka
(DE)
Anthony de Melo zufolge soll der Zen-Meister Rinzai (9. Jahrhundert) jeden Abend vor dem Schlafen laut gelacht und das ganze Kloster mit freundlichem, fröhlichem Gelächter erfüllt haben. Kaskaden dieses glücklichen Lachens explodierten dann auch wieder morgens und weckten alle, auch aus dem tiefsten Schlaf. Nie erklärte Rinzai den Grund für sein grandioses Gelächter.
Ich stelle mir vor, wie Rinzai seine Tage am Teich verbrachte und die Wasserläufer beobachtete. Wasserläufer, im Deutschen auch als Teichläufer, Schneider und Wasserschneider bekannt, sind faszinierend, weil sie auf dem Wasser laufen können. Das Gewicht ihrer Beine lässt sich nur in Milligramm messen. Sie stehen sozusagen mit einem Bein in der materiellen und mit dem anderen in der geistigen Welt. Einige der Gitarrenklänge – besonders die Obertöne – wie auch die Bassklarinettentöne, die durch die Oberfläche der Stille erscheinen und verschwinden können, zeichnen sich durch eine ähnlich geheimnisvolle Leichtigkeit aus.
Martin Smolka