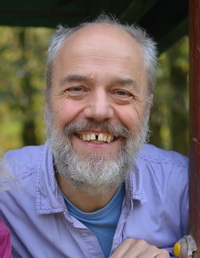 Pianissimo (2002, rev. 2006)
Instrumentation

: 4 trumpets or 4 saxophones of the same size

Movements

: 1

Duration

: 5'

Premiere

: 24.01.2007, Janáček Academy of Performing Arts in Brno; Saxophone Quartet Bohemia

Publisher

: none (available from composer)

CDs

: Angels; Marco Blaauw, Marcus Schwind, Nathan Plante, Ralf-Werner Kopp - 4 Bb trumpets with bucket mutes

Listen to an mp3 excerpt
Program Note:
(CZ)
Miluju chleba, miluju zvuk saxofonu. Ale saxofonové kvarteto mi připomíná starý vtip o chlebové pochoutce – plátek chleba mezi dvěma chleby.
Přijímám tuto výzvu a dotáhnu ji do krajnosti – ať hrají samé stejné saxofony a ať hrají, až na výjimky, všichni v jedné poloze. Poněkud úzký rozsah dynamiky vyřeším také omezením se na krajnosti – ppppp proti f. A k tomu přizvu dva osvědčené pomocníky – klavírní pedál a stručnost.
Martin Smolka (2007)
(EN)
Few minor melodies in one melancholy bundle.
Sadness cuddled into itself - quartertones, pianissimo.
And then, as if there were yet another quartet - high shriek, like the voice of a bird far on blue sky.
Just mood. Muted mood. Smooth muted moooooood.
Martin Smolka (2012)
(DE)
Ein paar Moll-Stücke in einem einzigen melancholischen Knäuel.
Schwermut in inniger Umarmung mit sich selbst - Vierteltöne, pianissimo.
And dann eines Vogels, weit weg am blauen Himmel.
Nur Stimmung. Gedämpfte Stimmung. Sanfte, gedämpfte Stimmung.
Martin Smolka (2012)