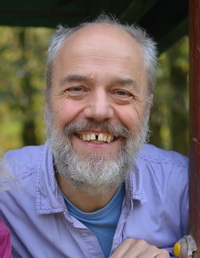 Per divina bellezza (2010-11)
four chants for vocal sextet
Aspro core (Petrarka)
Veni Sancte Spiritus (sequence)
In qual parte del ciel (Petrarka)
Alma Redemptoris Mater (Marian hymn)
Instrumentation

: soprano, 3 tenors, baritone, bass

Movements

: 4

Dedicated to

: Singer Pur

Commissioned by

: Singer Pur, gefördert durch die Ernst von Siemens Musikstiftung

Publisher

: Breitkopf & Härtel
Aspro core (2010)
Text

: Petrarca - Sonet CCLXV

Language

: Italian

Duration

: 4'

Premiere

: 9.03.2015, Singer Pur - unerHÖRT!-Reihe, Redoutensaal, Erlangen; Singer Pur
Veni Sancte Spiritus (2010)
Text

: sequence Veni Sancte Spiritus

Language

: Latin

Duration

: 5'

Premiere

:
In qual parte del ciel (2011)
Text

: fragments of poem by Petrarca - Canzoniere CLIX

Language

: Italian

Duration

: 8'

Premiere

:
Alma Redemptoris Mater (2011)
Text

: fragments of Marian hymn Alma Redemptoris Mater

Language

: Latin

Duration

: 5'

Premiere

: 21.09.2014, Beethoveenfest Bonn, St. Evergislus-Kirche Brenig; Singer Pur
Text:
Aspro core
Aspro core e selvaggio e cruda voglia
in dolce, umìle, angelica figura,
se l'impreso rigor gran tempo dura,
avran di me poco onorata spoglia;
ché quando nasce o mor fior, erba e foglia,
quando è 'l dì chiaro, e quando è notte oscura,
piango ad ogni or. Ben ho di mia ventura,
di madonna, e d'Amore, onde mi doglia.
Vivo sol di speranza, rimembrando
che poco umor già per continua prova
consumar vidi marmi e pietre salde.
Non è sì duro cor che lagrimando,
pregando, amando, talor non si smova,
né sì freddo voler che non si scalde.
Veni Sancte Spiritus
Veni Sancte Spiritus,
Et emitte coelitus
Lucis tuae radium.
Veni pater pauperum,
Veni dator munerum,
Veni lumen cordium.
Consolator optime,
Dulcis hospes animae,
Dulce refrigerium.
In labore requies,
In aestu temperies,
In fletu solatium.
O lux beatissima,
Reple cordis intima
Tuorum fidelium.
Sine tuo numine,
Nihil est in homine,
Nihil est innoxium.
Lava quod est sordidum,
Riga quod est aridum,
Sana quod est saucium.
Flecte quod est rigidum,
Fove quod est frigidum,
Rege quod est devium.
Da tuis fidelibus,
In te confidentibus,
Sacrum septenarium.
Da virtutis meritum,
Da salutis exitum,
Da perenne gaudium.
Amen.
Veni Sancte Spiritus
In qual parte del ciel, in quale idea
era l'esempio onde natura tolse
quel bel viso leggiardo, in ch'ella volse
mostrar qua giù quanto lassù poeta?
Qual ninfa in fonti, in selve mai qual dea
chiome d´oro sì fino l'aura sciolse?
Quando un cor tante in sé vertuti accolse?
(Ben che la somma è di mia morte rea.)
Per divina bellezza indarno mira
chi gli occhi de costei già mai non vide
come soavemente ella gli gira;
non sa come Amor san e come ancide,
chi non sa come dolce ella sospira,
e come dolce parla e dolce ride.
Veni Sancte Spiritus
Alma Redemptoris Mater,
quae pervia caeli porta manes,
et stella maris,
succurre cadenti surgere qui curat, populo:
tu quae genuisti, natura mirante,
tuum sanctum genitorem,
Virgo prius ac posterius,
Gabrielis ab ore sumens illud Ave,
eccatorum miserere.
Amen.
Program Note:
(EN)
These chants are related to madrigals and motets by Adrian Willaert, which were set to the same texts. In Willaerts collection Musica Nova (1559, just 400 years before my birth) were printed, quite unusually, when comparing the period practice, the madrigals on Petrarca beside motets on Latin sacred texts. The unusual inspiring idea to write new vocal music related to Willaert by pairing Petrarca and sacred texts from the Musica Nova collection was proposed by ensemble Singer Pur, who commissioned this piece with kind support of the Ernst von Siemens Musikstiftung. I have a pleasure and honor to dedicate my Per divina belezza to ensemble Singer Pur.
Martin Smolka