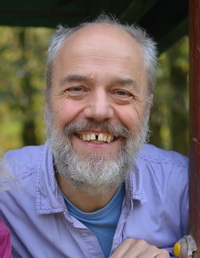 O formosa (1988)
for choir
Text

: an anonymous author, 15th century

Language

: Latin

Instrumentation

: mixed choir (SATB)

Movements

: 3

Duration

: 10'

Premiere

:

Publisher

: none
Text:
O Regina, lux divina, pro me rogita,
O formosa, plus quam rosa, sensum visita.
Protege benigna, omni laude digna, tuum filium.
Program Note:
(EN)
O formosa was an attempt to get together few very disparate influences and likings.
I was amazed at Arvo Pärt's revitalized middle-age expression and spirituality as well as at John Cage's objectivity of composition with its space for childish playfulness. The lyrics I found in a publication "The Czech music in examples" and it comes of the "Framus' hymn book" which was collected in the late 15th century. Its original music is a beautiful trio in style of early Renaissance.
I took several tonal chords (the piece has been written for an amateur choir), working just with changing their order and durations. In the first movement they are just very calmly floating, as if ad infinitum. In the two following movements I decided to bring back the same music, but let silence grow more and more through it.
The main compositional fun came later, when I was searching the way to work out this concept. In the second movement I manipulated this Renaissance-like score (projected on a checker sheet of paper) by filtering it through a silhouette of "Harlequin", the fascinating canvas by the op-artist Vasarely. More simple is the manipulation in the third movement: you may imagine it as an action of a "lazy" guitarist, who, instead of playing the whole chords, plays always only one tone, in order 1st to 4th string and back.
However, during this "objective" work, I often let intuition come in game, making "mistakes" to get more enjoyable sounds. And both the second and the third movements have its coda: growing freely and contrasting as mistletoe on a pine-tree. Or as a lovely, appealing face on a picture of Saint Virgin.
Martin Smolka