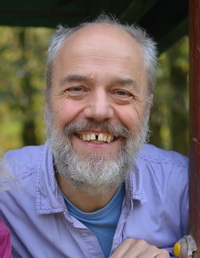 Missa (2002)
Text

: Ordinary of the Mass

Language

: Latin

Instrumentation

: 4 voices solo: high soprano, soprano, countertenor, bariton and string quartet

Movements

: 7

Kyrie
Gloria
Credo
Sanctus
Interludium
Benedictus
Agnus Dei

Duration

: 18'

Commissioned by

: Musik der Jahrhunderte Stuttgart

Premiere

: 24.09.2003 Musik der Jahrhunderte Stuttgart; Arditti Quartett & Neue Vocalsolisten Stuttgart

Publisher

: Breitkopf & Härtel (hire material)

Listen to an mp3 excerpt
Program Note:
(CZ)
S laickou představou, že jde o prazákladní sbírku modliteb, zhudebňoval jsem latinský text mešního ordinaria s plným soustředěním na význam a výraz slov. Málo jsem se staral o to, jakou má ten text historii, jak byl zhudebňován dříve, nebo jak se s ním nakládá v kostele. Chtěl jsem pěvce vyburcovat k intenzivnímu, exaltovanému, extatickému projevu, k vymrštění svatých slov do závratné výše.
Proto prudké výbuchy a zase krajní ztišení. Proto rychlá a ještě rychlejší tempa. Proto častá ostinata a hypnotizující opakování. Proto extrémní výšky, krkolomné koloratury a melismata a další hudební podivínství, a také mikrointervaly a drobné rytmické nepravidelnosti, které mají působit jako nerovnost a nesymetričnost prastarých zdí a kleneb.
Martin Smolka
(EN)
Motto: The foolishness of God is wiser than men. (st. Paul, 1 Cor.1,2)
During work on this piece I was fully concentrated on the text. I was writing a prayer. And I dreamed of that my desire for God would well up of the prayer wildly and ardently.
This determinated the use of compositional tools: A mobility, which is fast already in Kyrie, but still faster in Credo, Sanctus and Benedictus. Numerous use of unisons of 2, 3 or 4 voices which should effect a special inner life of the speedy motifs, caused by natural slight imperfections of sound color, intonation and rhythm. Few ecstatic coloraturi. Repetitions and ostinati for their hypnotic effect. The vehement "barking out" the melody fragments and riffs should get close to vitality of young rock-players. The gentle irregularities of rhythms (e.g. the added quaver in extreme speed) and tuning (1/4, 1/6 and 1/8-tones) should not be perceptible as "another" patterns and intonations, but they should rather remind the slight shape-imperfections of buildings made of rough stones and beams. The maximal contrast between the expressive fast movements and the silent static ones.
With shyness and uncertainty I broke various conventions. The most serious of them were probably the shortening of some of the texts for musical reasons (especially the long Credo) and wild speedy shouting of texts which for centuries has been sung slowly with pain in face. I experienced an inner fight: my brain sent me after authorities to learn correctly the traditions of handling with the saint texts, but my heart in fire did not allow me to interrupt the work until I completed the piece in one breathe.
Few years ago I visited a place of pilgrimage in a Coptic church in Egypt. The power of the place was exceptional and I felt a pity that I am not able to go out with my strong feelings naturally like the local people, who kissed a holy icon with passion. My way to such a passion with use of microtones, expensive instruments, work of the top experts in performing New music etc. might remind the absurd aspect of Western expeditions to wild places of our planet – how much properties they need to meet a naked man who owns nothing!
Martin Smolka