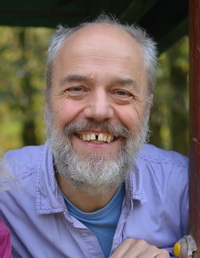 Hladina, mlha, vlhko, volavka, dálka (2009)
Lake, Mist, Herons, Remoteness
Instrumentation

: 4 saxophones

Movements

: 1

Duration

: 11'

Dedicated to

: Saxophone Quartet Bohemia

Premiere

: 7.12.2009, New Europe Festival, Duncan Cenre Theatre Prague; Saxophone Quartet Bohemia

Publisher

: none (available from composer)

Listen to an mp3 excerpt
Program Note:
(CZ)
Tady už všechno řekl název. Trochu vzpomínka, trochu snění, částečně zápůjčka ze staročínské poezie. Slyšíte hladkost "l" ve volání volavek? Po (ornitologické) pravdě řečeno vlastně nevím, které ptactvo mi ten nádherný saxofonový skřek připomíná.
Saxofonové kvarteto Bohemia už tuto hudbu hrálo, tehdy to byla krátká příležitostná skladba, zvaná Pianissimo. Mohl jsem tedy rozvíjet přímo jejich zvuky, které jsem dobře znal z nahrávky. Jejich pianissimo mi učarovalo, jindy tak hutný zvuk saxofonů byl jako zázrakem ztlumen a předepsané čtvrttóny začaly splývat v neslýchaný akustický jev. A jednohlasné glissando ve výškách jasně evokovalo křik vodního ptactva v tichu vltavských zátok za Zvíkovem (slyšíte bzučící "z"?). Stačilo nechat je vzlétnout.
Martin Smolka (2009)
(EN)
Everything has been said by the title. A little bit of a memory, a little bit of dreaming, partly borrowed from old Chinese poetry. To be (ornithologically) honest, I actually do not know what kind of birds that beautiful shriek of saxophones reminds me of.
Saxophone Quartet Bohemia has played this composition before: then it was a short occasional piece called Pianissimo. I was able to develop their own sound which I knew well from a recording. Their pianissimo enchanted me, the sound of the saxophones, otherwise so compact, miraculously became dimmed and the imposed quarter-tones started to merge into an unheard acoustic phenomenon. And the one voice glissando in high tones clearly evoked the shrieking of waterbirds in the silence of the bays of the Vltava behind Zvíkov. All I could do was let them fly.
Martin Smolka (2009)