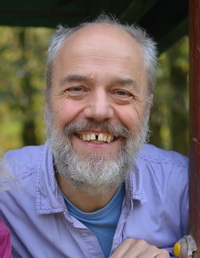 Hats in the Sky (2004)
Klobouky v oblacích
Musik for surrealistic, silent film "Vormittagsspuk" (1928) by Hans Richter.
Instrumentation

: tr, tbn, 2 perc, prep pf, prep guit, vc

Movements

: 1

Duration

: 7'

Commissioned by

: ensemble ascolta (Stuttgart)

Premiere

: 07.08.2004, Staatsgalerie Stuttgart; ensemble ascolta (Stuttgart), Titus Engel - cond.

Publisher

: Breitkopf & Härtel (hire material)

Listen to an mp3 excerpt
Program Note:
(EN)
I believe that originality "sits" always nearby banality. One single section decided about my involvement with the film Vormittagsspuk – the one, where people were disappearing behind the thin column of a street lamp. Especially the last actor in the row, who made his step funny, selfironically overacting. That way he underlined the sense, that it was a step to other dimension, as well as humour of the authors, who did not take themselves too seriously.
Then I enjoyed all that hats in the sky, which reminded me René Magrit, as well as the retrograde motions (a broken cup flying up and growing together, a firemen's hose inhaling water from the floor…), which gave evidence of the authors´ fascination by "miraculous" abilities of film.
This ability to love inventions like a child, to mobilize a pure naivity in oneself, to touch mistery playfully and with humour, and even to handle with unhappy facts (the guns and violence in this film!) without becoming unhappy – all that I tried to keep and underline with my music. Therefore the guitar, kind of leading instrument in the piece, is adapted radically, the piano is prepared, percussion reminds toys (flexatone, vibraslap, nightingales...) and the other instruments are rather squeaking than playing; all a bit crazy, peculiar, ridiculous and at the same time familiar, reminding children´s frisking.
This music should do nothing else than help this tenderly mad, but silent movie – to speak.
Special thanks to Erik Borgir, Hubert Steiner and ensemble ascolta for commissioning this piece.
Martin Smolka, 2004
(DE)
Ich glaube, dass Originalität immer ganz nah neben Banalität angesiedelt ist. Eine einzige Sequenz wurde ausschlaggebend für meine Beschäftigung mit dem Film Vormittagsspuk - diejenige, in welcher Menschen hinter der dünnen Stange einer Straßenlaterne verschwinden, wobei vor allem der letzte Darsteller in der Reihe seiner Schritt auf komische und selbstironische Art übertreibt. Dadurch hat er die Szene als Schritt in eine andere Dimension interpretiert und den Humor der Autoren unterstrichen, die sich selber nicht besonders ernst genommen haben.
Dann haben mir all die Sequenzen in zeitlicher Umkehrung (eine zerbrochene Tasse fliegt hoch und wird heil, ein Wasseschlauch saugt Wasser vom Boden auf...): alles Beweise für die Faszination der Autoren für die "wunderbaren" Möglichkeiten des Films.
Diese Fähigkeit, sich an Erfindungen wie ein Kind zu freuen, eine reine Naivität in sich selber zu mobolisieren, geheimnisvolle Rätsel spielerisch und humorvoll zu streifen, auch weniger glückliche Tatsachen (wie Waffen und Gewalt in diesem Film!) zu behandeln, ohne dabei unglücklich zu werden - all dies habe ich in meiner Musik zu erhalten und zu unterstreichen versucht. Deswegen wird die Gitarre, das führende Instrument in dem Stück, radikal umdisponiert, das Klavier wird präpariert, das Schlagzeug erinnert an Kinderspielzeug (Flexaton, Vibraslap, Vogelstimmen), und die anderen Instrumenten quitchen eher als dass sie spielenö es ist alles ziemlich verrückt, eigenartig, läppisch, gleichzeitig aber vertraut wie das Umherspringen von Kindern.
Diese Musik soll nichts anderes tun als diesem zart-verrückten, jedoch stummen Film zum Sprechen zu verhelfen.
Martin Smolka, 2004 (Übersetzung Andrew Digby/Mona Stocker)