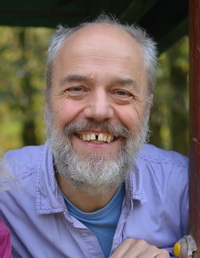 Haiku - žalm (2007)
Haiku - Psalm
Text

: Psalm 104 (verses 10-12, 16-18, 19-20, 22, 24); King James Version (1611; ed. 1816)

Language

: English

Instrumentation

: 3 male voices (tenor, baritone, bass), 3 trombones and 2 resonance-pianos (no players)

Movements

: 1

Duration

: 6'

Commissioned by

: SWR for Eclat Festival

Premiere

: 16.02.2008, Eclat Festival, Stuttgart; Neue Vocalsolisten, Composers Slide Quartet

Publisher

: Breitkopf & Härtel (hire material)

Listen to an mp3 excerpt
Text:
He sends the springs into the valleys, which run among the hills.
They give drink to every beast of the field: the wild asses quench their thirst.
By them shall the fowls of the heaven have their habitation (...)
The trees of the Lord are full of sap;
the cedars of Lebanon, which he has planted;
Where the birds make their nests (...)
He appointed the moon for seasons:
the sun knows his going down.
Thou makest darkness and it is night (...)
Oh Lord, how manifold are thy works!
The earth is full of thy riches.
Program Note:
(EN)
I chose the Psalm 104 for its wonderful poetical description of nature - as it used to be in haiku.
The entire piece is to be sung and played against the open strings of 2 grand pianos. The pianos should be retuned into a wild microtonal mess and the resonance of the pianos, especially during the rests, should become the very important (if not the main) adventure during listening to the piece.
Martin Smolka
(DE)
Martin Smolka greift in "Haiku-Psalm" zu einem instrumentellen Mittel: dem der nachschwingenden Flügelsaiten, die durch Stimmen und Instrumente ins Vibrieren versetzt werden. Antiphonisch wechseln und begegnen sich in seiner Komposition die Klänge der von der einen Seite kommenden Vokalstimmen mit denen der von der anderen Seite entfachten Posaunenstimmen im Raumzentrum. Die Ausschnitte aus dem Psalmentext werden durch dieses Verfahren vervielfacht – auch schon deshalb, weil an manchen Stellen der Partitur die Stimmen sie in unterschiedlichen Tempi, unterschiedlich einsetzend, knapp hintereinander zu singen haben. Inseln der Stille lassen die sehr effektvoll changierenden Nachklänge erleben. Dieser eindrückliche Effekt entsteht dadurch, dass Smolka die Skordaturen der beiden Flügel "in einer wild mikrotonalen Weise" verstimmt hat. Die Sätze aus dem 104. Psalm sind für Smolka wunderbare Beschreibungen der Natur, wie sie in der Haiku-Kunst konzentriert lyrisiert sind. Zwar ist die Aufteilung der Psalmabschnitte nicht identisch mit dem siebzehnsilbigen Dreizeiler, aber in der poetischen Ausstrahlung sehr verwandt.
Hans-Peter Jahn, Festival ECLAT 2008