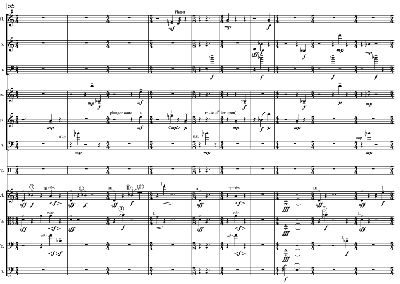 Frrr
for ensemble
Version 1 (2006-7)
Version 2 (2013)
Instrumentation

: fl(picc), ob, fg, sopr-sx(alt-sx), C-tr, tbn, 1 perc, vl, va, vc, cb (each player plays also kazoo and nightingale or finger cymbal)

Movements

: 1

Duration

: 7'

Dedicated to

: Mike Svoboda

Commissioned by

: SR-Festival "Mouvement. Musik im 21. Jahrhundert"

Premiere

: 11.05.2007, SR-Festival "Mouvement. Musik im 21. Jahrhundert"; Ensemble InZeit, Mike Svoboda - cond.

Publisher

: Breitkopf & Härtel (hire material)
Program Note:
(EN)
In my mother tongue the playful word "frrr" works as onomatopoeic expression of flight, high speed or short duration. This was the initial idea of the piece – a music that would lightly fly by, leaving behind a pleasant, amused impression.
Basic material is a fast walking melodic pattern, each tone played by different instrument as in hoquet. The piece is a chain of variations of this few notes – permutations of the pattern's tones, various instrumentations of each tone of the pattern, shortening individual beats (as if tripping up), interruptions of the flow by longer noicy chords, later substitutions of individual tones by rests, still later looping fragments of the pattern.
I am curious what the first performance shows. It may come out that, rather than a light "frrr", the piece is an arduous "GRRRH" for savage instruments.
Martin Smolka
(DE)
In meiner Muttersprache dient das Spasswort "frrr" als lautmalerischer Ausdruck für Flug, hohe Geschwindigkeit oder kurze Dauer. Das war die Ausgangsidee für mein Stück - eine Musik, die leicht "davonfliegt" und einen angenehmen, heiteren Eindruck hinterlässt.
Grundlage bildet eine rasche melodische Figur, bei der jeder Ton von einem anderen Instrument gespielt wird, wie in einem Hoquetus. Das Stück ist eine Variationenkette über diese wenigen Noten, Permutationen dieser Figur, verschiedene Instrumentationen jedes einzelnen Tons, Verkürzungen des Taktmetrums (wie beim Stolpern), Unterbrechungen des Flusses durch längere laute Akkorde. Später werden vereinzelte Töne durch die übrigen noch verbleibenden ersetzt, bis gegen Ende dann Fragmente der Figur immer wiederholt werden.
Ich bin sehr neugierig auf die erste Aufführung. Vielleicht zeigt sie, dass mein Stück, statt eines leichten "frrr" doch eher ein anstrengendes "GRRRH" für ungebändigte Instrumente darstellt.
Martin Smolka
(FR)
Dans ma langue maternelle, le vocable espiègle "frrr" est une expression onomatopéïque du vol, de la vitesse et de la brièveté. C'est l'idée qui est à l'origine de la pièce – une musique qui passerait en volant, légère, laissant derrière elle une impression plaisante, amusée.
Le matériau de base est une formule de marche rapide, chaque note étant jouée par un instrument différent, comme dans le hoquet. La pièce enchaîne des variations de ces quelques notes – permutations des notes du modèle, instrumentations diverses de chaque note du modèle, impulsions rythmiques (comme désarçonnantes), interruptions du déroulement par des accords bruyants plus longs, plus loin le remplacement des notes isolées par des silences, encore plus loin par la présentation en boucles de fragments du modèle.
Je suis curieux de ce que donne l'exécution. Il est possible qu'elle apparaisse, au lieu d'un léger "frrr", comme un laborieux "GRRRH" pour instruments sauvages.
Martin Smolka